Crookes ward is in the West of Sheffield and contains Crookes, parts of Hallam, Sandygate, and Crosspool.
Local Councillors
Crookes has two Lib Dem councillors. Learn more about them below: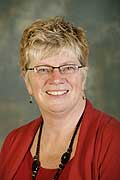 Name: Cllr Sylvia Anginotti
Years as councillor: 18                     Term Ends: May 2014
Bio: Sylvia Anginotti was elected for the ward of Netherthorpe in 1994. Following boundary reviews in 2004, what was then Netherthorpe Ward became the new Crookes Ward. Sylvia has 23 years experience locally as a lecturer in History. She took a degree in History as a mature student and became a lecturer in local history for Sheffield Adult Education. She then worked at Sheffield College for nearly 20 years. Between 1999 and 2002, she was the Cabinet Member at Sheffield Council for Children and Young People. When the Lib Dems regained power in 2008 Sylvia became Cabinet Member for Business and Enterprise. As a Cabinet Member she helped introduce the new Tramlines Festival in Sheffield, dubbed the 'urban Glastonbury'.
Tel: 0114 250 0361                E-mail: sylvia.anginotti@sheffield.gov.uk 
Surgeries: Contact Sylvia on 250 0361 to arrange a mutually convenient meeting in an appropriate location. She will aim to see you within a couple of days.
Name: Cllr Rob Frost
Years as councillor: Maiden Year                     Term Ends: May 2016
Bio: Rob Frost has lived in Crookes Ward all his life. Rob was born in Crosspool and attended local schools. He also has strong links with the local community – none more so than through his active and long-standing involvement with Hallam Cricket Club. Rob now lives in Sandygate and at 24 was one of the youngest councillors elected in 2012. Rob was elected, following a strong campaign to save the local dementia care centre, Bole Hill View, which has been placed under threat of closure by Labour councillors.
Tel: 0758 136 4133                E-mail: rob.frost@sheffield.gov.uk 
Surgeries: tbc