Labour's Waste Fiasco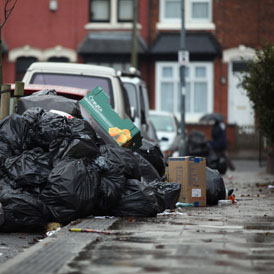 Labour councillors have decided to take away your weekly bin collections.
On top of this blow, Labour's Town Hall bosses have scrapped the free collection of your garden waste, and closed recycling centres by up to three days a week. Their plan to cut recycling services and end weekly bin collections at the same time was always a recipe for disastor.
Labour councillors launched a public consultation into bin collections last year but the questions were criticised in the local press as 'loaded' and 'leading'. Lib Dem councillors raised public complaints with Labour's leaders but they refused to respond to local people's concerns.
Lib Dem councillors have put forward a fully-costed plan to save weekly bin collections and free garden waste collections – but still Labour councillors went ahead with the cut this important service.
Despite spending £400,000 on a communications strategy, Labour councillors failed to pass on the most basic information – like which day bins were due to be collected. Meanwhile queues are backing down the road outside recycling centres and fly-tipping is on the increase in local parks.
If you have any problems or complaints to report – please do get in touch!